About the artist:

Canadian Chinese brush artist Tai Oi Yee 戴愛兒 was born in Hong Kong, and immigrated to Toronto, Canada in the early 1980s. Before leaving Hong Kong, she learned Chinese brush painting from the late Master Lai Yuk Hay 黎毓熙 who was a renowned artist trained by the great masters of Chinese painting, the late Lin Feng Mian 林風眠 and Pan Tian Shou 潘天壽 . She was fortunate enough to be accepted as one of Master Lai's last private students before he passed away. Though the learning journey was cut short by Master Lai's passing, it has enabled her to flourish on her own here in Canada where she has been able to bring East and West together in perfect harmony in her fusion sumi-e.

Oi Yee's brush strokes are deft and mature, yet the feel is innocent and playful. Her aim is to capture the essence and not the form. She sees beauty in simplicity and has developed her own spontaneous minimalist style. She loves to leave ample empty space in her Chinese ink wash paintings where the painted implies the unpainted, the tangible blends with the intangible. The "unpainted brushstroke" allows room for the viewer's own imagination, and also creates bonding between artist and viewer as what is not said is understood. This stems from 老子, 莊子 Laozi and Zhuangzi's Taoist thinking of Wu Wei, action in nonaction.

Follow the heart and go with the natural flow. 隨心所欲,順其自然...逍遙自在,樂其在中。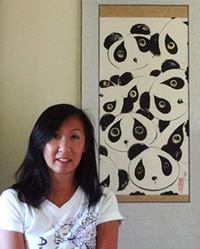 Tai Oi Yee戴愛兒 ...The meaning behind the name...

I have been asked many times which is your surname, Tai or Yee? What does your name mean?
For Chinese names, the surname always comes first, so Tai 戴 is the surname (it means "to support"). Oi Yee is the Chinese first name. Oi 愛 means "beloved" and Yee 兒 means "child".